"Alone we can do so little; together we can do so much."  

Helen Keller
My friends Life Coaches, Psychologists, Counselors, Healers and more
Marise Hyman
Self-Empowerment Coaching & Healing,
Neutralising the conscious & subconscious #limbicimprint, from conception, gestation, birth, formative years and onwards when the sense of Self was formed & wounded – with the multifaceted "Birth into Being Method", releasing what's holding us back in Life, Relationships, Creativity and freely Birthing babies/projects.

Clearing #headtrash (accumulated subconscious patterns of beliefs, thoughts, emotions, triggers and behaviours that prevent you from being awesome & behaving with freedom, choice & flexibility) with the "Head Trash Clearance Method", an energy psychology technique neutralising subconscious body-mind programs.
Marise also empowers families as Preconception, Prenatal & Parenthood Doula, with a focus on consciously preparing, clearing & connecting within to welcome the new generation with love, care and connected consciousness.  
Martina Širol
Professional learning facilitator and coach
Her topics of expertise are resilience & self-empowerment, interpersonal relationships, communication and problem solving, project management and leadership skills. Martina teaches how to use a blend of those skills to create and cultivate strong and deep relationships – with ourselves and others. She believes that those might be the most important prerequisites for living a fulfilled and successful life.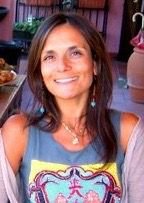 Antonella Nobilio
Astrosophist, 
researcher and student of the Astrosophy (the Celestial Science of the Soul) and of the wisdom tradition for 30 years, in particular of the texts of trans-Himalayan theosophy.
She is specialised in readings of the birth chart based on the indications of the "Science of Spatial Relationships", the Esoteric Astrology of A Treatise on the Seven Rays by the Tibetan Master and A. A. Bailey: the astro-genetic code, its strengths and weaknesses to be harmonized in an evolutionary or "spiritual" perspective.
Contact: anto.nobilio@gmail.com